Me and Barre3 (only slightly obsessed)
As many of you know, I have been dedicated to my Barre3 online workouts for many years now. The instructors are always giving out words of encouragement "You can do this! You have it in you! Stay strong!"
A new phrase that has emerged in recent workouts is actually a bit different than words of encouragement - although in a strange way that is exactly what it is.
"Get uncomfortable."
There are some standard postures that I see regularly throughout the Barre3 workouts, and there has been a recent shift where the instructors are coaching us to go a little deeper, stay in a pose a little longer, make a tweak that can yield different results all the while knowing that this may make some of us uncomfortable.
But I have listened to them. I have gone to the uncomfortable place - deeper bend, longer hold, larger breaths. And I am seeing some really great results from doing so!
Fear and Uncertainty
Hiring an Interior Designer can be a scary process - especially if you haven't worked with one before. People often hire an Interior Designer because they feel uncomfortable with their own ability to make design decisions for their space that they are confident in. They do not know how to pull everything together and are afraid of making mistakes. They also know that they lack the vision to bring a cohesive feel to an entire space.
Where I can't see things, she can see vision. She has the end result vision. It's difficult for people like me. If it's not sitting in front of me I don't understand it." - Client
Over the years, I have worked with countless clients and on many occasions have had similar conversations. Upon presentation of a design concept or idea, I hear a bit of fear or uncertainty in their voices because some of the design concepts that are being presented - they haven't seen before. They haven't seen the idea at the showrooms for the big box stores... in the pages of shelter magazines... on the 24 hour design TV shows...
I walk into my guest bathroom and I go, "I'd never have done this. It's just so beautiful." I completely know my house would not look as lovely as it does. I think it looks lovely. I just go into my house sometimes and just go (sigh). I just love it. - Client
Experience The Magic
Working with an Interior Designer can set in motion a transformational shift in your life. Bringing to life the vision you have for your space in a way that you never even imagined, Interior Designers have a trained eye that is guaranteed to think creatively, spatially, holistically.
Imagining the chandelier (pictured below) set off center from the dining table was a stretch for this client. In the end, as art collectors, the sculptural quality that this asymmetrical installation brought to the dining room allowed the space itself to come alive as art.
Having the resources, contacts, trades-people, craftsmen and women, and the language to speak to them through the implementation of a vision - especially one that is innovative and not 'off-the-shelf' - is an invaluable luxury that not only allows boundaries to be pushed, but the wow-factor to be reached - exceeded! Interior Design is truly a magical experience.
Get Uncomfortable
Whether that is in trying that pair of red heels with your jeans and silk blouse instead of your standard loafer. Or ordering the dish at the restaurant you're not sure about but sounds amazing. Or getting up in front of the group and pitching your best idea. Or going forward with a design idea that is out of your frame of reference. It's those moments when we run right past our comfort zones that the magic happens.
And I am here to remind you to
Get. Uncomfortable.
Go. There.
Stick. With. Me. Through. This.
Trust. The. Process.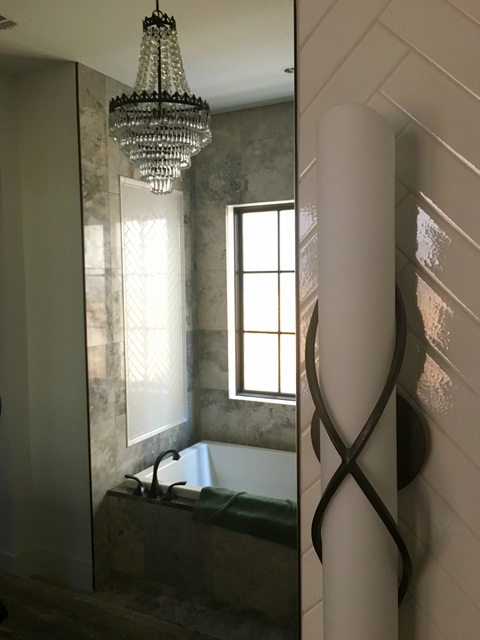 "She has an amazing vision for how you can pull it all together - ­ stuff that if you're not in the business and do that kind of work you would never put together. Then when you see it at the end you say Wow this is awesome. This works."
- Collaborator
Find a place in your life that you will Get Uncomforable and tell us about it below. We cannot wait to hear about your transformational magic!